When I first started woodworking and DIY around the home my power tool kit was very limited as was my budget. So by necessity, I began to accumulate woodworking power tools basically as I needed them for a particular job or project. Back then buying all my power tools at once simply wasn't an option.
Starting out I was in the process of having a new home built. While I left the main construction to the experts I did choose to finish the interior molding and trim work, without a Miter saw I would be still doing it! Other projects I decided to build included a new deck and timber balustrades, and some outdoor furniture. Likewise for the exterior and landscaping where some retaining walls needed to be built along with a set of stairs up to the balcony area.
So with a limited budget, I set about buying woodworking power tools as different jobs came up and, I soon discovered that all the tools I had initially bought covered about 80 percent of all woodworking projects.  This list below Is what I've found to be the best for a general home workshop and gives all the power tools and accessories that you would ever need if you are into DIY, home building, or home maintenance.
The list is in the order I purchased them and not necessarily the way you should buy them.
 Cordless Drill Set 
Compound Miter Saw
Circular Saw
Electric Sander
Benchtop Drill Press
Jigsaw
Woodworking Router
One of The first woodworking power tools to buy is;
No 1 – Cordless Drill – Cordless Screwdriver.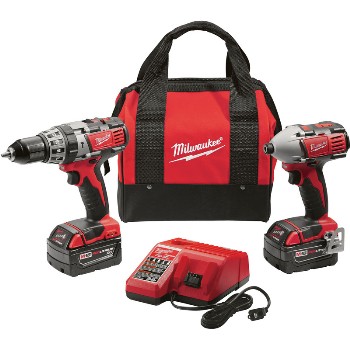 It's a toss-up for the absolute first must-have power tool between the miter saw and the battery-powered drill kit. For the entry-level DIY handyman, handywoman I would seriously consider the cordless drill as my first choice power tool.
This would be the most used woodworking power tool I have. In fact, these are so awesome these days I have two battery drills. Having two allows you to work on a lot of projects where you have to pre-drill a hole before setting in the bolt or screw. If the project is considerable, say as in deck building, having two cordless drills will save hours of changing drill bits for driver bits.
With one of these cordless screwdrivers you can build practically anything, great for drilling holes of all sizes, including using hole saws, you can use sanding attachments, sheet metal nibbler attachments, use multiple types of driver bits from tiny screws, to Allen keys, to batten screws and roofing screws.
Most reputable brands now come in kit form with the main power drill plus a smaller impact driver /drill.
Best Models And Brands Of Cordless Drills.
This can be a matter of personal choice but I would still prefer to see people buying better quality brands. In this area, I would go for the best I could afford. For years I've used Hitachi cordless drills. While they were good at the time the newer types are far better, my current choice is Milwaukee battery tools. My original Milwaukee drill is 15 years old, is on its second set of brushes (new models are brushless), and has done some seriously heavy work from landscaping to fixing deck screws and even an entire roof.
Top Pics For Cordless Screwdrivers
Entry-level cordless screwdrivers and drills you are looking at Bocsh, Black and Decker, and Ryobi brands. Better quality cordless drills are Dewalt, Makita, Porter-Cable, Ridgid, and my current choice Milwaukee. If you are just starting out I would seriously consider going for any of the top five listed, they will cost more but It's well worth spending the extra money, in general, they are more powerful, are better made and will have many more options for add ons.
 Cordless Woodworking Power Tools – Buying Smart
Before you rush out to purchase that new cordless tool, take a minute to consider what other woodworking power tools you are likely to buy in the future. The reason for this is that nearly all good quality cordless tools nowadays take the same batteries.
Your first cordless tool is likely to be a cordless screwdriver /drill. These generally come standard in a boxed set that contains your drill, two batteries, and a battery charger. With this set up you are able to buy other woodworking power tools that are compatible with the batteries you already have. This is a game-changer for cordless tools. The most expensive part of any cordless tool ist the batteries, being able to interchange one set of batteries is just great.
These add to woodworking power tools are often called 'skins'. This is a great way to buy new power tools as they are relatively inexpensive. The most expensive part of your tools set up is the batteries that power them. You already own these with your cordless drill set.
At this point its worth considering what brands you are looking at what 'skins' are available for that brand that you may like to add at a later date. For example, Dewalt and Milwaukee have battery powered miter saws, circular saws, renovators, impact tools, saw tables. grinders, blowers, jigsaws, job site radios, and more tools coming on stream every year. Cordless tools now have powerful batteries and are more reliable. It is the best way to go!
No 2 – The Miter Saw – Can't DIY Without One
The compound miter saw is an absolute must woodworking power tool in all home workshops. The need to cut accurate square cuts and miters will drastically reduce rework and frustration if you are cutting by hand. I know, I learned the hard way. For DIY you don't necessarily need the biggest and best, just something that will get the job done cleanly and efficiently. But do look at buying the best you can afford.
Recommended Miter Saws For DIY and Home workshop
DeWalt has a great reputation for all tools, the DWS780 Compound Miter Saw is a large saw, 12 inches, and will handle anything you throw at it.
The Makita LS1040 is a down to earth workhorse, perfect for any workshop
The Hitachi/Metabo single bevel saw is another that will just keep on performing.
Another Dewalt machine for our top 4 Miter saws, the DeWalt DWS715 is a little more basic but will cope with practically any DIY or woodworking project you have.
 Mitre Saw Models And Brands
Look for the well-known brands, DeWalt and Makita are two of the top-selling mitre saws in this bracket. I started out with a ten-inch Makita miter saw that I still use today. Recently I've upgraded with a newer Makita compound sliding miter saw that is amazing. There are also newer cordless miter saws now on the market, needless to say, the cordless revolution is getting bigger, these saws are brilliant!
What To Expect Your Miter Saw Can Do
As I said I've used a 10-inch miter saw for years. The saw has been able to handle the cutting of trim moldings and many different furniture projects. Also, I've built many decks using this saw but there have been some limitations. Wider 6-inch bearers need to be finished cutting using a hand saw as the 10inch blade is too small. Also, the move to using wider 6″ decking boards also restricts the smaller saws capability. If I were building decks today I would Definitely go for a compound sliding 10 or 12-inch miter saw, which is what I've upgraded to.

No 3 – Table Saws – Now Come Corded And Cordless!
The table saw is the third item I purchased and It would be a toss-up between numbers 3, 4, and five as to what you may go for next. Depends on what DIY projects you are into. Table saws are great if you tend to do a lot of panel cutting or furniture building.
For example, this home office desk required a lot of panels to be cut to size, plus the 'styles' that hold the panels needed to be grooved to accommodate the black panels. A perfect job for a table saw. The desk plans were found in Teds Woodworking Plans, however, I've made my own spin on the style. I highly recommend if you are building anything from ready-made plans, put your own mark on it.
There are a lot of table saws on the market that are battery-powered. These are great if you require some portability and are just as capable as their powered counterparts. My preference in the workshop is to go for a corded version, especially if you are ripping down heavy timber planks from time to time. Table saws are woodworking power tools that need a lot of power when doing heavy work.
For The Best Table Saw Brands, I would look at
No 4 – Circular Saws – Portable and Efficient
Diy and woodworking require a lot of cutting timber. And although you will still use the trusty old handsaw from time to time having a  power tool capable of cutting timber is certainly worth it. Generally, a 7  1/4 inch saw is all that's required for DIY and you have the option of going corded or cordless. I have both and use them both often, but I must say that the battery-powered saw gets more use than its corded counterpart.
Circular saws are great for general lumber cutting and ripping, also convenient and safe to use on outdoor projects where the risk of electric shock always lingers when using a corded saw.
Best Circular Saw Brands that you can expect to last 
DeWalt,
Skill,
Makita.
Hitachi and Evolution are also good tools with the budget models being Black and Decker and Ryobi.
No 5 – The Benchtop Drill Press
Drill presses are where you can scrimp a little on woodworking power tools. Unless to are working on jobs that require exceptional accuracy a mid-range Benchtop Drill Press should be fine. Obviously, you don't want crap but you don't need to spend a lot of money on a reasonable machine.
Great for cutting larger holes using hole saws and spade bits. Drilling repetitive and straight holes through thicker timber makes life easier. Look to buy one that has an adjustable height table and also a table that can be angled for drilling angled holes. Always clamp your work.
Brands worth considering for value for money are Wen, Grizzly, and Skill. If you want to go top of the line lookout for the Delta 18-Inch Laser Drill Press.
No 6 – Sanders – Fast Finishers.
I have three different sanders in my workshop. The first and most used is a sanding belt attached to a bench grinder. I use this all the time and is an attachment tool for fitting to bench grinders. Some call these linishers. At this point, I would say I have two or more interchangeable belts that I use for sanding Steel, Aluminium, and wood. This is a great tool for taking the edge of wooden and metallic parts.
The next best sander would be the random orbital sander followed by belt sanders. The random orbital sander is used mostly on finishing furniture. Here you would typically start with heavy grit sandpaper such as p80 and work your way up to say p240 grit or even p400 for a super fine finish.
To be honest I don't use the belt sander all that often so my overall suggestion is to start with the random orbital. Size-wise you can get away with a palm sander as they are most versatile.
Best brands, I would go cordless here and choose the one that matches your cordless drill battery.
Milwaukee
Black & Decker
Makita
Dewalt
No 7 – Routers For Unlimited Creativity
Routers are something you turn to when you've got some experience behind you. This is where you can get creative and start making some really cool stuff. There are two types of router, plunge routers, and trim routers. With plunge Routers you can;
Cut mortises ( slots in timber)
Machine circles
Cut rounded corners
Make signs
Machine inlays
Cut grooves, flutes, and dados (trench or slot)
Create decorative flutes and edges, There are many styles of router bits
As well as being a versatile tool, their efficiency can be further increased with the addition of a router table. You can either get a standalone router table or make your own. Mine I have adapted to my workbench.
Brands and Models.  The new style of routers is more compact than ever. There aren't many cordless routers available as the power demands on these machines is big. Therefore I would opt for a corded model, although with the advantages in battery power I would expect this to change very soon.
Top-selling Woodworking Router brands are DeWalt, Bocsh, Makita, and Porter-Cable.
No 8 – Jig Saws
Jigsaws are handy critters, good for cutting timber, plywood, MDF.  And when using the appropriate cutting blade you can cut other materials such as plexiglass, plastics, sheet steel, and aluminum. Brands, again go for a cordless battery model based on the cordless drill you have purchased.
Handy But Not Essential Woodworking Power Tools
Planers / Jointers and Thicknessers
Planers / Jointers are flatbed power tools that are great for machining boards to have straight edges and removing bumps and warps. Thicknessers Are for machining boards to a specific size. These can be expensive tools to add
Renovator power tools
These guys are quite new to the market as far as power tools go, but have been around for a few years. These work on superfast vibration as the cutting technique. They have many uses but the ones I find best are for getting into hard to cut places when doing home renovations. For instance, cutting skirting boards in place, cutting nails under boards, and chopping holes in plasterboard. This handy tool is great if you want to replace something without ripping everything else apart to get at it.
Hammer Drills and Impact Wrenches
I have both of these in my workshop, the rotary hammer drill is amazing if you need to drill into concrete to fix concrete anchors. The impact driver I use a lot for landscape work when I need to drive long screws into heavy timbers.
Conclusion
Setting up your own workshop will give you hours of enjoyment as will the woodworking power tools you have. There are other machines that I've not covered, mainly due to the specialized jobs they perform. This includes Bandsaws, scroll-saws, and wood lathes. All are a great asset to the workshop, but not something you would necessarily buy unless they serve a specific purpose in your workshop.
The main thing about buying woodworking power tools is that you do some homework. Read reviews to get an insight into what you are buying. Always try to purchase the best quality you can afford. This will keep you in good stead for many years to come.
When I was 18 years old I purchased a Hitachi electric chainsaw as I lived on a farm. It was expensive at the time and the top brand but I went for the quality. 45 years later that chainsaw still works and has never broken down. A good lesson learned., buy quality.
Hey there, Giving great info about Diy and the tools we use to build and create is the driver behind this site. About Us.