I've been in the welding and fabrication industry for over 25 years, and I've seen my fair share of accidents. In many cases, eye injuries were high on the list. Many of these eye injuries were mainly because of inadequate or poor-quality welding helmets. Some of the reasons include poorly designed helmets that allow sparks to easily enter, bad visibility, poorly fitting headgear or arc flash. Having the best welding helmet you can afford is an investment in yourself,  plus the latest technology in auto-darkening welding helmets will make your jobs more enjoyable.
Without much ado, let's have a look at the  best welding helmets in 2021 for your welding projects:
| | | | |
| --- | --- | --- | --- |
| Top Pick | Close Second | Highly Rated | Best Budget |
| Lincoln Viking 3350 | Esab Sentinel A50 | Miller Digital Elite | Yeswelder true color |
| | | | |
| Considered the best all-round performer from Lincoln USA | Classic top quality welding helmet from Esab | Miller Electric, a leading brand of reputable welding gear | Ticks all the boxes for a budget welding helmet |
| Top of the line 1/1/1/1 optical lens rating, Crystal clear color optics, Extra-large lens, X6 headgear for superior comfort. Exterior grind mode button. 3 yr warranty | Lens rating 1/1/1/2! Shade settings 5 to 13, Top-quality ergonomic headgear plus viewing area = 93 x 2. 36 in. (100 x 60 mm). Memory settings plus grind mode | Superb clarity from Clear light lens. Well-fitting comfort head-gear. 3 arc sensors for consistent response. Grind, weld, and cutting modes. Easy to use adjustment buttons. | Great For MIG, MMA, TIG, and plasma cutting. 1/1/1/2 Optical rating. Extra Large Viewing Size 3.93″X3.66″. 4 arc Sensors. True color clarity. Comfortable headgear |
| View On Amazon | View On Amazon | View On Amazon | View On Amazon |
---
Best Overall – Lincoln Electric 3350 
Premium welding helmet from Lincoln Electric. Gets consistent 5 Star reviews.
With an extra-large lens, the 3350 series lens has a 1/1/1/1 optical clarity rating. X6 headgear provides amazing comfort. This helmet is the clear leader in comfort and welding optics.
lincoln Electric is well established in the welding industry for welders and welding equipment. Their products are highly regarded in the welding industry and are used widely in industry and DIY welding. The Lincoln electric 3350 auto-darkening welding helmet is no exception and you can well be assured that you are buying a quality product.


Good Reasons to Choose The Lincoln Welding Helmet

Welding is a skill that, for me is underrated. The process requires technical know-how and good vision. This is where having the best welder helmet you can afford comes into play. Many welders are wearing a helmet for many hours in a day and are likely to be working with a variety of different materials and light conditions. Being able to have a clear vision for up to 12 hours a day will not only make the job more enjoyable but will ensure quality work and better productivity.

Lincoln electric has produced new auto-darkening welding helmet lenses (Viking-tm) That offer a perfect 1/1/1/1 score in their 3350, 2450 and 1840 series welding hoods. Great lenses are the cornerstone of the best welding helmet quality. This means that you can be assured that the lincoln 3350 welding helmet will deliver the best clarity of vision available in a welding hood.

Features of The 3350 Welding Helmet

Optical Class Rating 1/1/1/1

Lens Shade: Features continuously variable control and adjustable to suit all conditions, covering shades 6 – 13, Includes grind mode which is excellent for weld preparation and clean-up.

Viewing area: Boasting one of the larger viewing areas of 3.3″  x  3.7″ (95x85mm) outstanding clarity and color vision.

Outstanding Clarity: In reading the reviews of what other users of the 3350  have to say it is obvious that this helmet is top of the range welding hood for optical clarity and vision.

What We Like:

Maximum control of Shade and sensitivity for different environmental conditions.
Best welders helmet for optical clarity.
The adjustable reaction time delay from the dark filter back to the light filter
Four arc sensors, lithium batteries.
Comfortable headgear and hard hat adaptable
Lightweight only weighs 567 grams
Capable of using a magnifier lens
Grinding mode.
Great value for the money

What we Don't Like:

No real complaints, some report headgear problems, and others have experienced batteries having less life than expected. The pros outweigh the cons, however.
============================================
 Exceptional Clarity – Esab Sentinel A50
This top-quality Sentinel welding helmet is highly regarded by pro welders.
The ergonomic headgear is infinite in its adjustments for the ultimate comfort. 8 memory settings from the touch screen control panel, with an exterior grind mode button. A large viewing area with a lens rating of 1/1/1/2  and 5-13 shade ADF.
Esab, no doubt puts a lot of effort into creating their unique helmets. They have made full use of the technology available and have created wonders like this Esab Sentinal a50, which even have a colored display that will amaze you to the core.
Exceptional Features
Optical Rating: Optical Class Rating 1/1/1/2.  In occupations like welding, clarity is a very significant subject and engineers at ESAB know it well. This is why the Esab sentinel a50 auto helmet offers an auto-darkening optical class rating of the lens and arc sensors that makes everything vivid and clear. The operator is allowed full control over the range of shades available (shade 5 till 13).
Viewing Area: The welding helmet has a considerably large viewing area, that maximizes clarity and vision. You can look sideways super easily with a large viewing area of 3.93 X 2.36 inches.
Display: This Esab Sentinel a50 helmet has a control panel with a backlit display that aids you in reading even in low dim light. The screen is colored and comes along with 8 different memory settings. The helmet is relatively easy to use and can be easily operated even without a user manual.
Build up: The manufacturers have crafted the helmet from high-impact nylon, which improves the stability and makes it tough. The Grind Button is positioned outside the helmet for an adjustable shade range, so the operator doesn't have to lift his helmet to switch to grinding mode to extra protect your eyes. The Halo Headgear addition allows you to move the helmet near or away from your face.
Pros
Optical Class Rating for exceptional clarity.
Colour touch screen with a backlit display for better viewing options.
Easy to use, even without a user manual.
The grind mode button is positioned on the exterior, to avoid any trouble caused by removing the helmet for changing the mode type.
Large Viewing Area for a clear horizontal and vertical view.
8 externally managed memory settings.
Cons
Economically unsuitable for a large class of welders.
The front Cover lens gets scratched easily.


 
---
High Quality – Miller Digital Elite Welding Helmet
Great Value Welding Helmet From Miller
Clearlight technology for greater color visibility, Four arc sensors, fully adjustable and comfortable headgear
Miller Electric has maintained a standard for itself by providing the outstanding digital elite welding helmet with a very pocket-friendly price.
Best Features
Lens Shade: The Miller Welding Helmet, allows you to adjust the shade of your lens according to your working mode. For welding purposes, you can choose between the shade range -8 to shade -13. While, for the grinding mode, you have an option to choose between shade -3 to shade -5.
Adjusting the shade helps you to reduce the pressure on your eyes when focusing on your work.
Viewing Angle: It has a large viewing angle, in comparison to most of the welding helmets available in the market this has one of the best welding helmet vision qualities. The viewing area is almost 9 square inches wide that offers optical clarity and ease in looking sideways.
X-Mode: The helmets are equipped with special arc sensors that detect the welding arcs. The helmets electromagnetically detect a weld and, hence decrease the sunlight interference. The X-mode allows the helmet to detect the arcs even if the sensors are get blocked for some reason.
Working Modes: The Miller digital elite auto-darkening welding helmet has different working modes for the operator's ease. Apart from the X- mode, the operator can adjust between the grinding mode, weld operating mode, and a cutting mode without taking off the helmet. These options display how versatile the miller auto welding helmet is.
Pros
Adjustable lens shade for welding mode and grinding mode.
Large viewing angle ( up to 9 square inches), for a better view
Different working modes include welding, grinding, and cutting mode.
Four arc sensors system, to enhance the lens response and increase productivity.
Large lens plate height( 2 -2.5 inches) and width (3- 4 inches) so, peripheral view supports your work.
Good value for the money
Cons
 A bit heavier than 43 ounces.
Helmet exerts a little pressure on your neck, using it for a prolonged period can result in neck strains.
---
Best Value – Jackson  Safety  Auto Darkening Welding Helmet
Jackson Safety Ultra-Lightweight Insight HSL-100 Welding Helmet
A good lens viewing area with easy-to-operate digital controls for delay and sensitivity, lens shade adjustment of shades 9 to 13. Excellent color and weld pool visibility
If you are looking for a cost-effective helmet that can aid you with your tough profession, then this is the right option. The Jackson safety auto welding helmet has got a range of features with its versatile nature as the highlight.
Top Features:
Auto Darkening Filter: The ADF feature controls the shade of the lens by controlling the amount of light entering. It helps in getting used to the environment by controlling the shading.
Viewing Area: Jackson Safety Welding Helmet is acknowledged as the world's largest viewing range. The screen is wide enough for a clear, high-quality view. The viewing area is around 3.93 x 2.36 inches wide which is suitable for any type of welding.
Versatile: The helmet is extremely versatile with different working modes options on the go. You can choose between the grind mode and the welding modes. The operator has further options to decide from such as MIG welding, tig welding, and arc welding.
Design: The Jackson safety shell is designed with such dexterity that it can easily be used in narrow spaces and is the best welding helmet we found with this quality. The extended collar provides protection to your neck from any smoke and fumes. While you weld and grind, the collar provides you security.
Variable Shade:  The option between shades of the lens is vacillating. You can choose between shade 9 and 13. Moreover, the helmet is equipped with 4  sensors that dim the lens automatically. The sensitivity of the helmet is high, which makes it very effective.
Pros
Auto Darkening Filter controls the shading of your lens
World's largest viewing capability, with an enormous viewing area.
Narrow shell to easily fit in spaces
Different work mode options are available.
Shade ranges available between 9 and 13
4 sensors available that automatically dims the lens according to the environment.
Cons
Plastic is flimsy and very small to act as a respirator.
Headgear can easily slip off.
---
Badass! –  Save Phace Gen-Y Welding Helmet
Save Phace ULTRA LIGHT Welding Helmet
The Halo headgear lets you move the helmet closer or away from your face, the face-forming profile gets the user into tight spaces. Very light at 24oz, plus a large viewing area of 24 sq-inches.
 Save Phace is one of the coolest helmets we can offer. These are available in many different styles and never fail to impress! It's super light in weight and doesn't cause any kind of strain in the neck even if worn for extended hours.
Features
Adjustable ADF: Save Phace's Gen Y Helmet is credited as the world's first-ever welding helmet with an adjustable ADF (auto-darkening filter). Whenever your helmet is struck with a welding arc, the part of the helmet automatically darkens itself. The ADF feature meshes with the 180 lens design for optical clarity.
Light Weight: The helmet is crafted very skillfully. The heat resistant and high impact nylon increase its durability and comfort level, when in use. It weighs as low as just 24 oz and feels easy on your head.
Grinding Mode: This ADF helmet can also be used in grind mode. The knobs are situated outside the helmet, to easily access the settings during welding. With a push of a button, the grinding mode can be activated.
This helps in increasing the productivity of work and ensures safety for the user. Moreover, it eradicates the need for taking the helmet off and saves you time.
The lens is adjusted automatically to make the grinding mode more fruitful.
Face Forming Profile:
Save Phace helmets are designed in such a way that they provide maximum protection to the operator. It has a profile that forms on the faces and permits you to fit into tight spaces easily. Moreover, it is equipped with a halo headgear which allows you to adjust the distance of the helmet from your face according to your need.
Pros
1st ever solar power welding helmet with an adjustable ADF.
180-degree viewing lens to see vertically and horizontally with ease.
World's second-largest viewing range of the lens. (up to 23 square inches).
Lightweight, making it easy to carry and handle.
Ear to ear vision.
Heat resistant and high impact nylon for durability.
Face forming profile to squeeze in tight spaces.
Halo headgear allows moving the helmet near or far away from your face.
Comes with a helmet bag and parts can be interchanged with Save Phace's other series.
Cons
The extended peripheral lens is too dark.
Freight headgear does not like to stay tight and can fall.
---
Pro Welders – SpeedGlass 9100 Welding Helmet
Speedglas 9100 Helmet with Standard Auto-Darkening Len
Increased field of vision with shade 5 side windows. Top-grade eye protection and superb comfort make this welding helmet a top choice among professional welders. A great investment for all-around eye protection.
Glass, along with creating marvels, 3m Speedglas keeps the protection of their customers in mind. This Speedglas welding helmet manufactured by the company is equipped with different phases of protection while offering almost the same features as all other helmets available.
Pro Quality Features
Auto-Darkening Welding Filter: The incredible 3m Speedglas Welding Helmet is armed with the ADF feature. It helps to adjust the shade with a slight detection of a welding arc. The feature is very efficient for auto-darkening welding helmets and takes up to 0.1 milliseconds approximately to change the transition from light to dark shade.
Side Windows: The side panels increase the field of view. It aids you in keeping a check on your environment while you work. The side windows are designed to be dark to increase the peripheral view.
Protection: The 3m Speedglas helmet helps protect your face and eyes. For a starter, the material of the helmet doesn't let the radioactive emissions and ultraviolet rays penetrate through the helmet. The lens also helps in protecting the eyes from the excessive bright light that can cause damage to the eyes.
Comfortable: The 3m SpeedGlas Welding helmet features an ergonomically designed head that provides the utmost support and comfort. Apart from that, there are two crown straps that boost stability and distribute the weight of the helmet evenly across your head.
Pros
Super quick arc sensors ADF transitions.
Good Optical quality for a better, clear view.
The incredible head suspension offers comfort, stability, and security.
Dark Shade 5 filters enhance the peripheral view.
Protects from harmful emissions emitted during welding.
Different working modes available( grinding mode, cutting mode).
Cons
Not economical for money-strapped people.
---
Best On A Budget –

YESWELDER Large View Auto Darkening Welding Helmet
Budget-priced welding mask with a Top Rated lens optical class rating of 1/1/1/2
Yeswelder are unique for budget-priced but good quality welding gear. This Yeswelder helmet is no exception giving a great viewing screen and using True color technology.
Ideal For MIG TIG and MMA

View Screen Size 3.64″X1.67″ +2 Sensors

True color tech – 1/1/1/2 Optical Clarity

Pivoting style headgear for greater comfort

Shade Range DIN4 /DIN9~13

Darkening response time ≤1/10000 S
The Yeswelder welding helmet is a well-priced entry-level weld mask and is an ideal welding helmet for beginners.
=========================================
 Classic – Hobart Welding Helmet
Hobart has been using technology to create exceptionally good Welding helmets for years. The engineers at Hobart try to facilitate their customers with the maximum features a good welding helmet needs, all that in a very minimal cost.
Great Features
Lightweight: Hobart Welding helmet is crafted from polyamide which enhances the toughness of the helmet. The solar power helmet is lightweight and is easy on your neck and back. This super cool ADF helmet only weighs up to 20.3 ounces.
Viewing Area: The view is enhanced with a sufficiently large view area of 7.1 square inches. Thanks to it, the operator can easily look horizontally and vertically.
Sensitivity: Hobart Impact Series Welding Helmet is equipped with sensors that boost the overall sensitivity of the shell. It aids in retaining the adjustments made. Moreover, these sensors serve the purpose of quick reaction time.
The ADF system only requires 1/25000 second reaction time. They serve as a controller for the light. The arc sensors can be used to vary the amount of light that enters the lens.
Comfortable: This industrial-grade helmet takes special considerations about your comfort level. The forehead area is padded and the knobs are located at the exterior of this helmet. This provides stability and a secure comfortable fit. You can easily weld in an area of 5 – 10 range with Hobart Impact Variable Helmet.
Lens Shade: The lens can be shaded according to the ease of the operator and his working mode. It gives the operator an option to decide between shades 8 and 13. In light mode, the shade is automatically adjusted to shade 3.
Pros
Good Viewing Area, for a clear view during welding.
Crafted out of Polyamide, to boost the toughness of the helmet.
Wide range of sensors that enhances the ADF feature of the helmet.
A quick response reaction time of about 1/25000 seconds.
Padded forehead for stability and security.
Variable Shade between 8 and 13.
Cons
Some report not suitable for long spells of welding as can cause neck and shoulder strains.
Top Welding Helmet Combo Deal – Tanox Auto Dark Weld Helmet
Check Out Customer Reviews Here >
While Tanox is not a regular brand name in the welding industry the customer reviews for this auto-darkening welding helmet have been nothing short of excellent with most reviewers giving a five-star rating. Suited to both professional welders and home DIY workshop this welding helmet ticks all the boxes because of quality and price.
Tanox Helmet Best Features
Very Fast Auto Darkening lens will go from dark to light in 1/25000 of a second and is up there with the very best of Auto welding shades. The lens is solar charged with a battery backup and is adjustable in a shade range from 4 to 8 for cutting and grinding and 9 to 13 for Mig Tig and Arc welding.
High Optical Rating.  The optical rating for the auto-darkening filter is very good coming in at  1/1/1/2 were the best optical rating class for weld lenses and to protect your eyes is 1/1/1/1
Versatility. With this darkening welding hood, you are covered for any type of welding shop activity you are likely to come across. Including the standard welding practices of Arc, Mig, and Tig. With the variable shade function, you can also use the helmet for plasma cutting, arc air gouging, grinding, gas cutting, and gas welding.
Lightweight Comfort – coming in at 1.6 pounds the helmet includes fully adjustable and comfortable padded headgear.
Viewing Area – The lens viewing area is an impressive 2.4 inches x 3.86 inches. The helmet is also compatible with magnifying and a cheater lens.
Powered By: Solar-powered Cells & Lithium Batteries with auto on/off function.
Bonus Extras Included
Not many quality auto-darkening welding helmets offer these extras for such a good price. However, the helmet comes with one pair of top-quality welding gloves, extra Exterlan and Internal Lens covers, plus a carry bag.
What We Like
Quick auto lens response time of about 1/25000 seconds
Large viewing screen
Comfortable and lightweight headgear
Amazing clarity when welding
Well priced solar power welding helmet for the quality
What We Don't Like
Can't find any bad reviews
Tanox Welding Helmet Conclusion
This is a mid-priced weld helmet and it ticks all the boxes and comes highly recommended by all those who have purchased and I feel this would sell regardless of the extras being offered.
Welding Helmets and Safety
With welding, the combination of metal and fire can have consequences if the operator isn't careful and safety-minded. So having good quality safety gear is the first line of defense against any personal injury and your welding helmet is top of the list when exposed to harmful rays, heat, and emissions.
OSHA (Occupational Safety and Health Administration) requires all such workers and DIY welders to wear protective gear for safety at work and at home. It is essential to take the matter very seriously and buy the best welding helmet you can afford.
You Only Have One Pair Of Eyes – Protect Them!
With years of advancement in technology, it is no wonder that the auto-darkening welding helmet market has dozens of options for you. These welding helmets vary in many ways and in various levels of quality. Their headgear and padding system, ADF technology, viewing capacity, and optical clarity make choosing the best auto-darkening welding helmet for you an important decision. It is very important to choose wisely and make your best decision not only according to your pocket but for your eyes and safety's sake.
FAQ About  Auto Darkening Welding Helmets
What Is ADF Technology
ADF stands for Auto-Darkening Function. Also referred by some manufacturers as ADL or Auto Darkening Lens.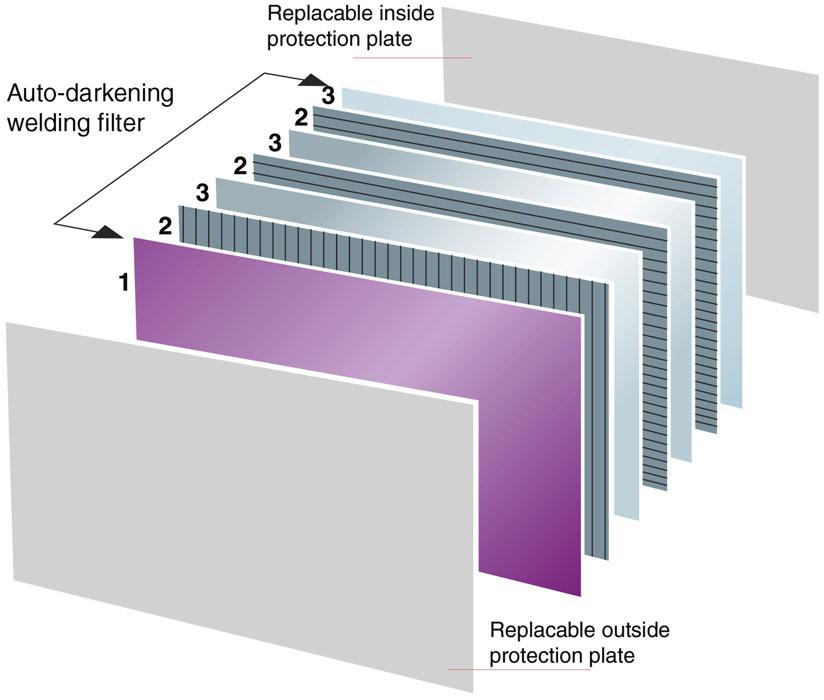 The auto-darkening function relies upon three different types of lens filters, all sandwiched into one compact lens. The first filter is a UV type filter that removes the high levels of UV radiation the welding emits. The second filters are polarizing filters that naturally darken the light, and this is why the lens is dark before being turned on. The final lens is where the magic happens. This lens is the LCC lens or Liquid Crystal Cells, similar to your everyday LCD display. This lens is activated to darken because of photosensors in the lens when the arc is struck. All good welding helmets will have an adjustable shade range level of between shade 9 and 13, many now have modes that can be used for grinding, cutting, and welding. Auto-darkening welding helmets with these extra functions effectively give lens shade range from 3 to 13.
Optical Class Ratings
The best welding helmet auto darkening lenses are rated using an Optical Class Rating. The ratings are graded using four different scales and, without being too technical they are, Optical, Is the view sharp and clear?, Light diffusion, Is the lens defect-free?, Clarity of Angle, blurred edges? and Light variations, consistency of auto shade function. These Four grades are tested on a one to three scale with a perfect score being four ones and the lesser score of four threes. The best optical rating will be shown as 1/1/1/1, a poor rating could be 2/2/3/3
How dark should my welding helmet be?
  The darkness of the welding lens is generally compared with the type of welding being performed and the amount of amperage being used in the welding process. That is to say for example, that if you are welding auto body panels, this requires very little power from the welding machine, about 90 amps so the arc will not be overly bright. For this type of welding, you would choose a lens shade of 9 or 10.
If you were to be welding something very heavy, say a two-inch-thick metal plate, you would need to be using a much more powerful welder of around 400 amps. Here the brightness of the arc will be stronger and you could go to a lens filter of 12 to 13.
Are cheap welding helmets any good?
There are many different welding helmets on the market, as shown on this page the prices can vary considerably. In some situations then a cheap welding helmet may be all that you need. This would be perhaps for DIY and home use where the user would not be great. Some of these cheaper helmets will be ok in this situation. Look for helmets that offer a good coverage area to stop sparks from getting to you. Also, those solar-powered welding helmets with a good viewing size are an advantage.
A good quality helmet will definitely cost more. Anyone in the welding industry as a full-time welder will know the benefits of having the best welding helmet possible. They have superior headgear for long periods of welding, more control options, and settings with the auto lens, at least 4 sensors for failsafe auto-response, and excellent mask coverage. The bottom line here is you should buy the best welding helmet you can afford, scrimping on safety is a bad idea.
What Is The Best Welding Helmet For TIG?
Generally speaking, tig welding requires quite low amperages. Tig welding is an advanced welding technique that requires some amount of skill and dexterity. The finished weld is not one that requires cleaning up or grinding smooth, for this reason, the welder needs to have an excellent vision of what is being welded. In low amp situations, Tig welding helmets would need a good optical clarity rating with a welding lens shade of around 5 -6 to get a good view of what's going on.
Having said that, I have done much TIG welding on industrial pipework where the amperage needed is high and the lens shade required was 10. For this reason, the welding helmet should be one that covers a full range of shade filter settings, from 5 up to 13. A good example of a great all-around TIG helmet would be the Lincoln Electric 3350.
Conclusion
Welding could be considered to be one of the more dangerous professions, considering the exposure to heat and UV rays. However starting with the best welding helmet you can afford, plus taking other welding safety precautions will make welding as safe as many other professions that require manual skills.
We have outlined the most popular welding helmets that are on the market today, they have become popular as they have been used by real welders who know what a welding helmet should deliver. The best welding helmets are respected brands that have reliable and well build welding lenses and safety features. Be aware of very cheap welding helmets, many have poor quality lenses that have a slower darkening reaction time. Make sure to pick good quality, there will be one that suits your needs and falls in your budget.
Comparison Chart
| | | | | | |
| --- | --- | --- | --- | --- | --- |
| Welding Helmet | Weight | Dimensions | Price | Viewing Area | Material |
| Save Phace Gen-Y – Welding Helmet | Weighs less than 24 oz | 10 x 10 x 11 inches | Check Latest Price | 23 square inches | ABS |
| .Miller Elite welding helmet | 2.8 pounds | 10.5 x 12 x 9.8 inches | Check Latest Price | 9 square inches | Nylon |
| Hobart Impact Variable Auto-Dark Helmet | 2.3 pounds | 9 x 9 x 13 inches | Check Latest Price | 3.81 x 1.85 in | Polyamide |
| Speedglas Welding Helmet | 2.09 pounds | 12 x 11 x 11 inches | Check Latest Price | 9 x 9 Inches | Nylon |
| Jackson Safety Insight Auto Darkening | 2 pounds | 1 x 1 x 1 inches | Check Latest Price | 3.93 x 2.36 inches | Nylon |
| Esab SENTINEL A50 Auto Darkening | 1.4 pounds | 21.6 x 13.8 x 13.8 inches | Check Latest Price | 3.93 x 2.36 in. | Plastic |
---
---
Hey there, Giving great info about Diy and the tools we use to build and create is the driver behind this site. About Us.